DHR Box Van in HOe
Regular price
Rs. 1,850.00
Regular price
Sale price
Rs. 1,850.00
Unit price
per
Sale
Sold out
GST calculated at checkout
Darjeeling Himalayan Railways -  C Type Box Van (set of 2)
HOe scale. Running on 9 mm gauge track
Road no: 551/552 and 553/554
3d printed wheelsets are provided in the kit for the sake of completion. However, for regular running on a layout, we recommend MOSSKITO 7.0mm Metal Wheels - Solid Disc available from DUNDAS models in the UK. 
All our products are made to order. It takes 10-14 days for us to print, pack and ship all kit orders.
More info about our 3D printed kits

Frequently asked questions:

 

What in included in the 'KIT' ?

The DIY kits have 3D printed components. Includes all detail parts and appropriate decals and jigs where applicable. Assembly and painting required.

Can I motorise the locos?

Some of the locos are designed in a way that can be made totally operable. For any particular locomotive, details are provided in the product description.

You have the flexibility to make a display model or a motorized model depending on your skills to convert them into a running model. 

We suggest using the recommended motors for the optimum performance.

 

What sort of wheels do I get?

By default, all of the kits except some of the locomotives contain 3D printed wheels. For the locomotives that are meant to be motorised, no wheels are included in the regular kit.

For the rolling stock, 3D printed wheels are included, however, please note that the 3D printed wheels are good for display only and will not be suitable for running the models in a layout. Please use suitable plastic or metal wheelsets available to you. Wherever possible we have provided our recommendations in the product description.

Who this is for?

The kit is the most reasonable offering with a lot of flexibility for customisation - for the modeler in you, this might be the right way to start your Indian Railways model making journey.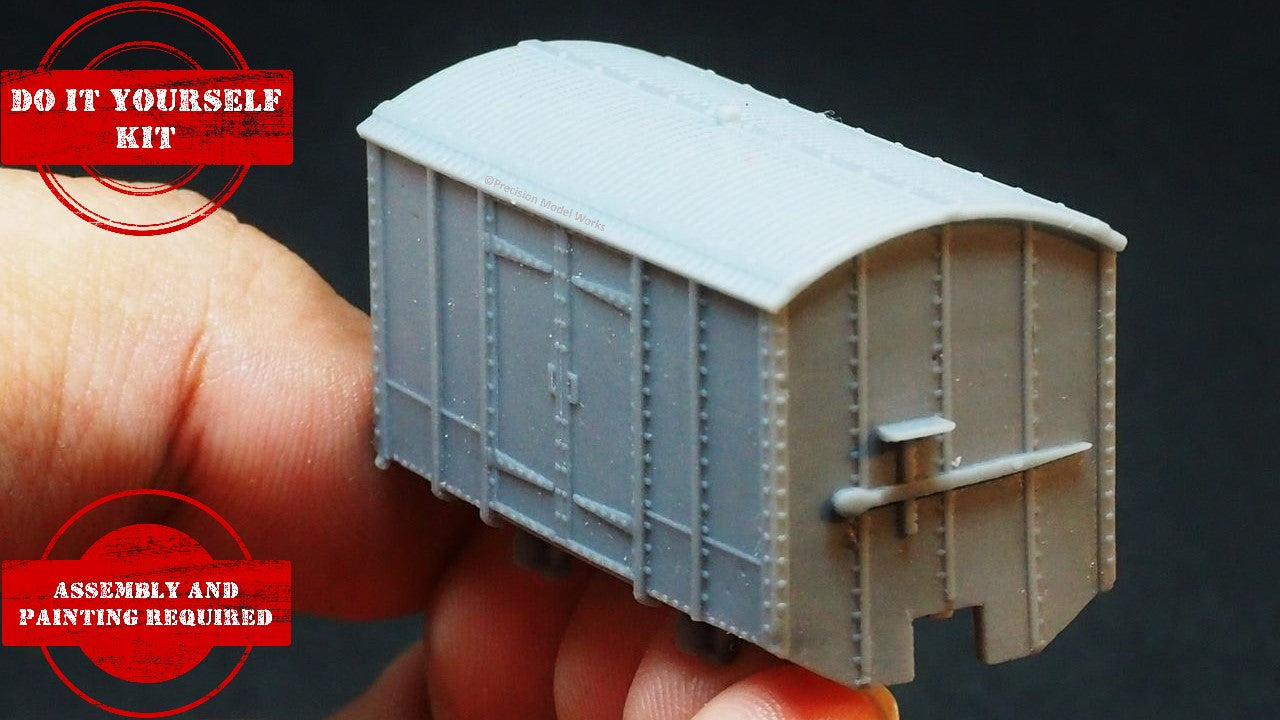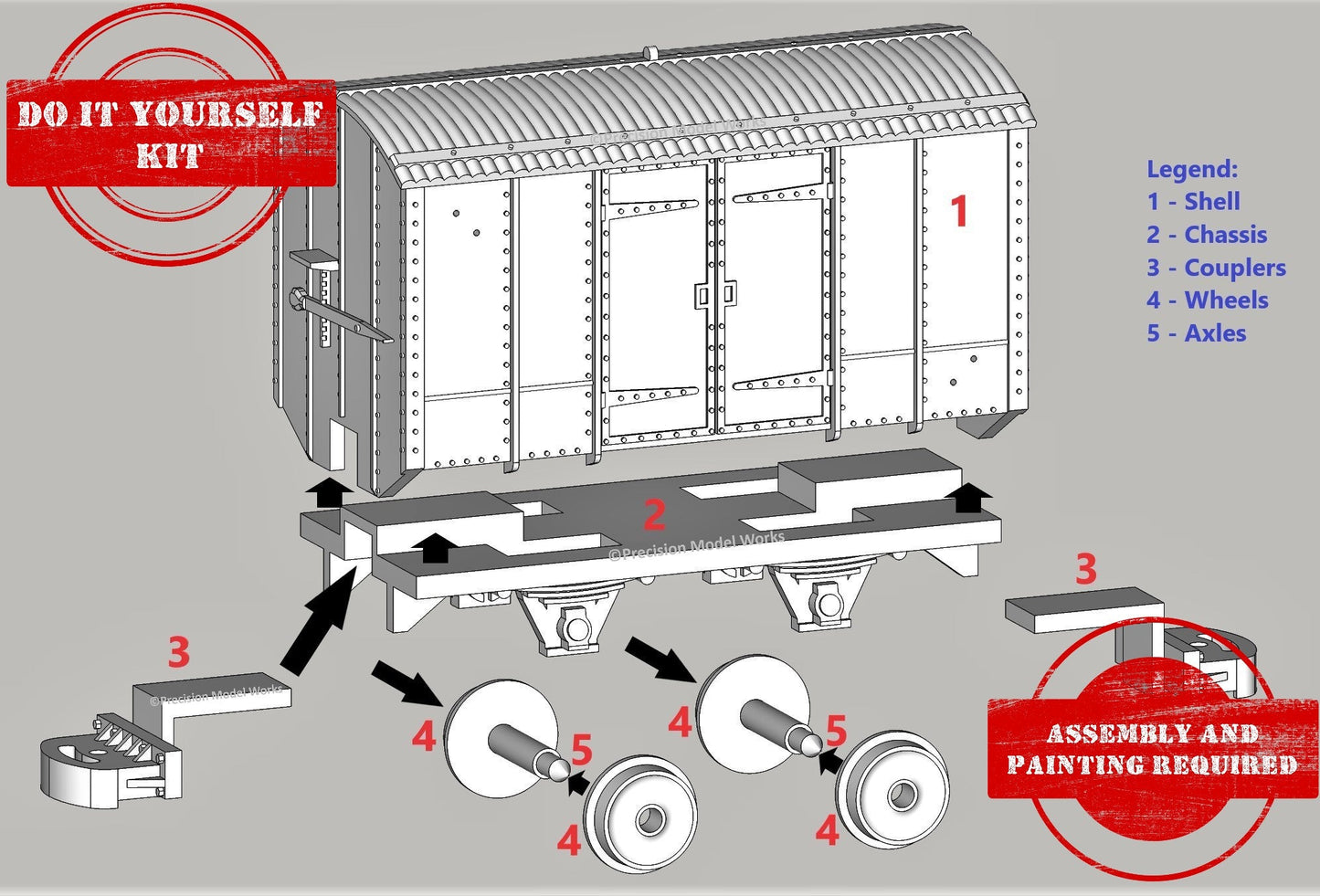 Hoe C van.
This is my first purchase from PMW. My order came faster than I thought.(with in 11 days) Congratulations to the team.
I ordered 4 of the C type vans and they arrived well packaged for the trip. Upon opening the box 4 neatly
arranged diminuitive vans pleased my eyes.
I did not realise how small the prototype are/were.
I measured the vans, and they scale out to 12.25 feet in lenght, 6 feet in width, and 6 feet in height from the top of the coupler to the pitch of the roof. As I have no prototype drawings to compare with these are my findings.
The models themselves are very finely printed with rivet details visible along panel joints. The corrugated roofing is particularly done well with bracing and rivets.
All four models had micro holes exactly in the same location on the main body panels, top and bottom. No idea why they are there. They will have to be filled in.
Two models had the underframe slightly bent in the downward position and did not sit in the body properly.
This was corrected by placing the frame in hot water, then placing then on a flat surface with a weight on top till they cooled off.
The other issue was wheels. As these models will be run on my lay out, the recommended wheel sets for these models were/are not available at this time. Lucky I had some 7mm replacement wheels for another project which I have used in these little vans. Although not a smooth fit in the bearings, with the help of a little graphite and running the models backwards and forwards on a section of track the wheels have set in thir journal boxes very well.
The couplers are unique and I do like them, but I've not tried them out yet.
In conclusion... Other then the micro holes, these are nicely printed little models and i will be adding some additional pieces in the near future from them.
Hello Rob,
Thank you so much for the positive feedback - appreciate it. The prototype is indeed small, and in HOe they are quite small indeed. We can assure you that the dimensions are accurate as much as the scale and technology would allow and they have been validated by prominent DHR experts.
The micro holes you mentioned are actually for tiny little grab handles - here is a photo of the DHR box van and if you look closely, you can find the diagonal handles no longer than a car handle: http://4.bp.blogspot.com/-RCh6f2B88Vg/TtQbPGThJMI/AAAAAAAACrU/_WWgXBZsqiQ/s1600/Good+Train+1.JPG - they are unique positioned both diagonally to the body, as well as diagonally to the door - a very nice little detail to show off on a small model.
These handles are too fine to be 3D printed unfortunately, so we have placed the tiny holes so that customers can use 0.3mm or thinner wires to replicate them. In case you do not wish to make them, simply cover them with modelling putty and paint over.
The wheels from Dundas might not be under in their MOSSKITO listing, but under their Dundas OO9 listing which you can find here: https://dundasmodels.co.uk/webstore/index.php/hikashop-menu-for-module-108/category/511-dundas-models-009-wheels-bearings
Hope this helps and wish to see at the shop soon again. :)
Cheers!
Kaustav
Regular price

Rs. 6,250.00

Regular price

Sale price

Rs. 6,250.00

Unit price

per

Regular price

Rs. 3,660.00

Regular price

Sale price

Rs. 3,660.00

Unit price

per
Please go through before placing an order: