UNPAINTED Figures: Sitting Indian People
Regular price
Sale price
Rs. 650.00
Unit price
per
Sale
Sold out
GST calculated at checkout
In this unique collection of figures, you will find our initial offering of various truly Indian characters that suits any Indian-themed model train layout, diorama, and architectural display in any era. Carefully crafted to show the great diversity of this country and what you typically see in any Indian Railway Station, street, or public place.
There are 8 sitting figures in the pack of different gender and age, including 3 kids, out of which one is sitting on another's lap. Pack also includes a beggar with an amputated leg sitting on the ground/floor.
IMPORTANT NOTES:
Color WILL vary from the photographs. Photographs are for representation only.
Items are MADE-TO-ORDER. We print the models once the order is placed and payment is received. Items are typically shipped within 10-14 days of placing the order.
These models are UNPAINTED and you have to paint them yourself. To learn miniature figure painting techniques, you can watch the below video from none other than our founder, Kaustav Chatterjee.
More info about our 3D printed kits

Frequently asked questions:

 

What in included in the 'KIT' ?

The DIY kits have 3D printed components. Includes all detail parts and appropriate decals and jigs where applicable. Assembly and painting required.

Can I motorise the locos?

Some of the locos are designed in a way that can be made totally operable. For any particular locomotive, details are provided in the product description.

You have the flexibility to make a display model or a motorized model depending on your skills to convert them into a running model. 

We suggest using the recommended motors for the optimum performance.

 

What sort of wheels do I get?

By default, all of the kits except some of the locomotives contain 3D printed wheels. For the locomotives that are meant to be motorised, no wheels are included in the regular kit.

For the rolling stock, 3D printed wheels are included, however, please note that the 3D printed wheels are good for display only and will not be suitable for running the models in a layout. Please use suitable plastic or metal wheelsets available to you. Wherever possible we have provided our recommendations in the product description.

Who this is for?

The kit is the most reasonable offering with a lot of flexibility for customisation - for the modeler in you, this might be the right way to start your Indian Railways model making journey.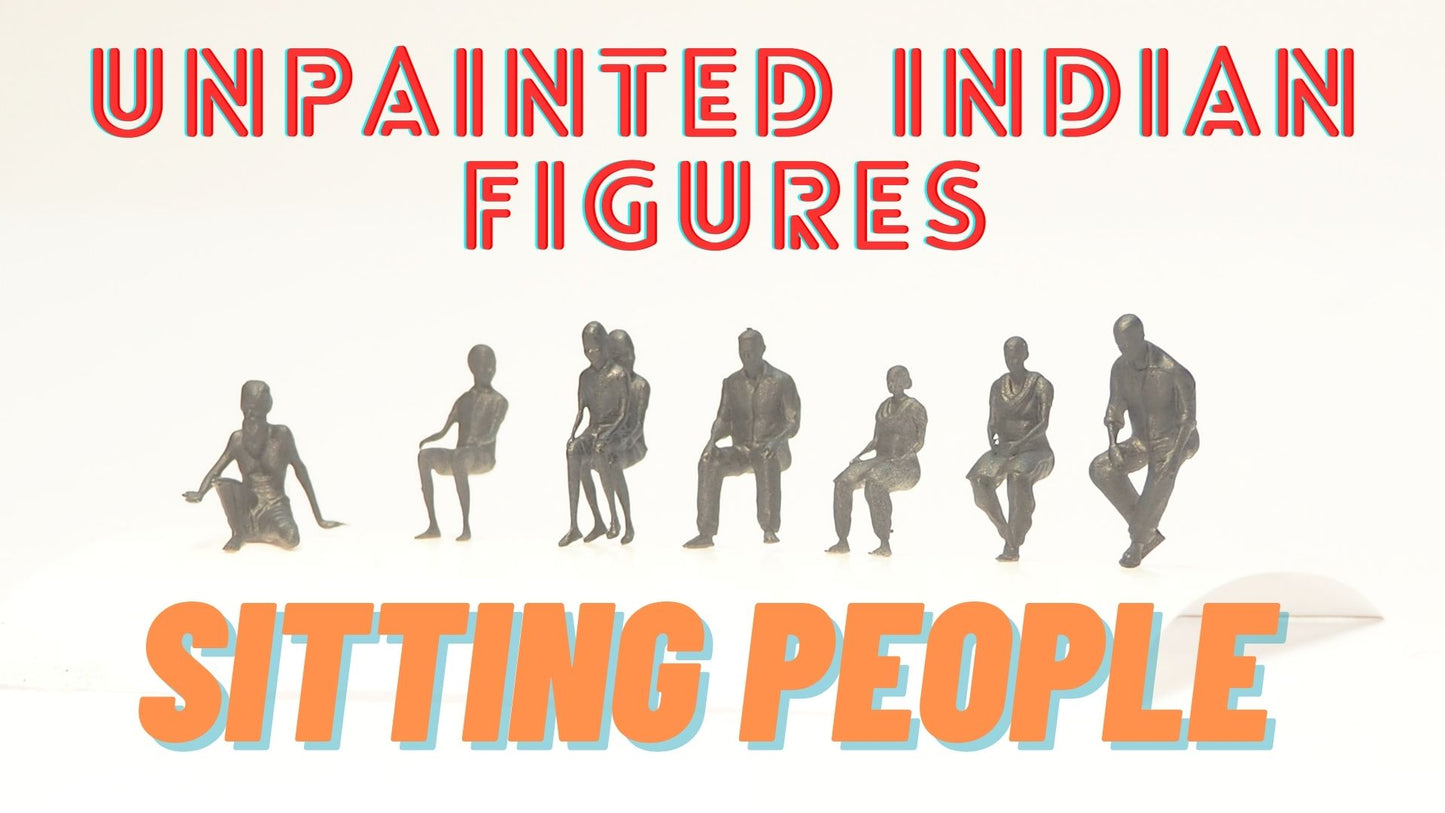 Sitting people.
In this set one finds 2 seated woman wearing shalwar kameez, 2 seated men, two kids (one sitting in the other's lap) one young lad (I think) and one beggar. These have all been very well printed. In particular the beggar stands out for me with his one leg, long beard and out stretched hand. Here again is a model that would fit in any time period of the subcontinent. Good job PMW.
Robin (Rob)
sitting Indian people
These are very nice 3 D printed high quality scale figures. The printing is clean and no seams or other partitions are visible. The poses are typical for India, A great addition to any Indian themed layout. Super! Thanks PMW Team!
Regular price

Rs. 6,250.00

Regular price

Sale price

Rs. 6,250.00

Unit price

per

Regular price

Rs. 3,660.00

Regular price

Sale price

Rs. 3,660.00

Unit price

per
Please go through before placing an order: